So since it's half 12 at night, I've been scrolling through twitter instead of sleeping, and I came across this blog known as http://bloggerbirthdays.blogspot.co.uk and I think it's so cute.
You basically fill the form out on the page and your birthday will appear on the calender, so not only can you wish other bloggers a very sweet "happy birthday" but people can see when yours is and wish you one too!
It has a lovely little badge which you can put on your blog too!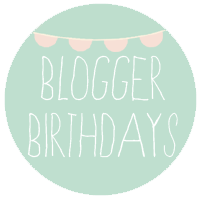 You may notice I've attached it to my sidebar, and you can do so too and spread the word! Enjoy xx
(P.S. Have you entered my giveaway yet? You can win Maybelline fit me foundation, concealer and setting powder! I ship worldwide too, see previous post for more info on how to enter)